The Easiest Way to Enhance Your Floors
If you're looking to upgrade the floors in your home, concrete staining and epoxy floor coating are easily the most affordable and efficient way to do so. The team at Renu Painting provides homeowners in the Amarillo area with these services so that they can enjoy their home to the fullest. Keep reading to learn more about the benefits of concrete staining and epoxy floor coating and how you can get started on your project today!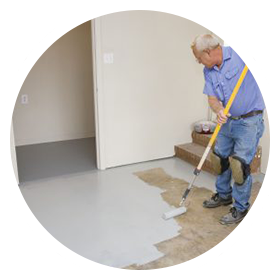 Benefits of Concrete Staining & Epoxy Floor Coating
Luxurious Look
Affordable Price Point
Durable Flooring Solution
Wide Variety of Colors to Choose From
Quick and Easy Application Process
Low Maintenance Flooring
CONCRETE STAINING AND EPOXY FLOORING IN AMARILLO | RENU PAINTING
Bring life to the floors in your home with the concrete staining and epoxy floor coating services that Renu Painting offers. Contact us today for a free estimate on your project.
The floors of your home contribute quite a bit to the overall aesthetic of the house. If you're looking for a way to bring life to the floors within your home, concrete staining and epoxy coating are an option worth considering. While they aren't as traditional as hardwood flooring or carpet, it's a flooring solution that we believe can easily be incorporated into any space. Aside from that, both are a flooring solution that offer an affordable price point and a luxurious result.
Benefits of These Flooring Solutions
One of the reasons that we choose to offer these flooring solutions is because we recognize the many benefits to incorporating them in a household. If you're on the fence about using either of these flooring options, keep reading. We are going to touch on a few of the benefits that these flooring solutions offer.
Luxurious Look
The common misconception with concrete staining or epoxy coating is that it will look cheap. The reality, however, is that these flooring solutions can create a luxurious and beautiful flooring solution when done right. When you factor in color options, technique, and the ease of complimenting these different flooring solutions, it's so incredibly easy to enjoy a high-end design look without paying an arm and a leg for it.
Color Selection
Concrete staining and epoxy floor coatings have the upperhand on other flooring solutions because of the large selection or colors that they can be done in. Aside from that, there are a variety of techniques used to apply stain and epoxy, providing even more opportunities for achieving the design that completes your space.
Low Maintenance
One of the primary reasons that people love these floorings within their homes is because of the little to no maintenance that they require. Carpet needs to be vacuumed and maintained in order for it to continue to look new. Hardwood floors can easily be scratched and require frequent sweeping, mopping and waxing to uphold their look. When it comes to concrete staining and epoxy coating, you never have to worry about a mess affecting the appearance of your floors. And even in the times when your floors are dirty, it's a quick and simple sweep to keep them clean.
Affordability & Efficiency
There's no doubt about it, the cost of concrete staining and epoxy flooring is extremely competitive in comparison to the cost of hardwood flooring and carpet. Aside from that, it's much easier to apply concrete staining and epoxy flooring. In fact, these solutions can often be done in one day! When you're able to receive a beautiful floor for a portion of the cost and in a fraction of the time, why wouldn't you? This is exactly what makes this such an appealing flooring solution.
GET A FREE ESTIMATE
The team at Renu Painting has the experience and knowledge needed to enhance the aesthetics of your floor. Whether you're interested in concrete staining, epoxy floor coating, or a little bit of both, our team can help. Reach out to us today and let a member of our team provide you with a free estimate on your project.
Contact Us to Get Started